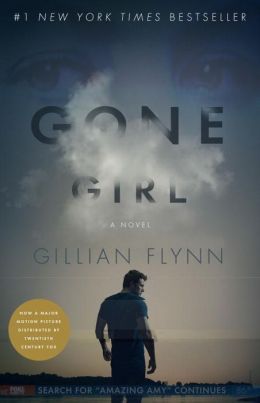 you can find the book at:
GoodReads
Amazon
Barnes and Noble
Author Website
my review:
Rating:
★★★★★


"There's a difference between really loving someone and loving the idea of her." 
Gillian Flynn's Gone Girl opens a new perspective in thriller novels by creating Nick and Amy as the main characters. The Novel opens as Nick – "I used to be a writer…back when people read things on paper, back when anyone cared about what I thought" – finds that at their fifth wedding anniversary his wife Amy has gone missing, front door is open, the coffee table shattered, books scattered. Amy, a trust fund baby New Yorker who has disastrous life since Nick put her to his Missouri home in order to care for his dying mother, is now gone.
Nick calls the police, obviously, but his reaction is strange. He keeps referring to Amy in the past tense, and then holding himself back. He is not quite worried enough about her disappearance. "I wasn't sure what to say now. I raked my memory for the lines. What does the husband say at this point in the movie? Depends on whether he's guilty or innocent."
The book switches between Nick's narrative, as a person who is desperately looking for his wife which Amy consumes the attention of America's media, and Amy's diary, as she writes about the early days of their relationship. "Tra and la! I am smiling a big adopted-orphan smile as I write this …I met a boy!" She says. And then later: "He promised to take care of me, and yet I feel afraid."
Slowly, the two stories  begin to converge, the media and police begin to swing the blame towards Nick's way. He lies to the police: little lies that don't really matter, but why is he doing it? And there's something strange about Amy's diary too; her vision of the events of their past is different from Nick's, it demolishes their perfect image. We begin to see the cracks of the darkness in this seemingly perfect marriage: where is Amy, and who is telling the truth?
Flynn, an extraordinary good writer, plays her readers with twists in throughout the story. She plays with her unreliable narrators to stunning effect, disturbing and delighting in turn. Gone Girl, her third novel, is an absolute must read.
I spent most of the book deciding between fearing Amy Dunne and wanting to be best friends with Amy Dunne. The woman is brilliant, witty and completely on-point about so many things (the "Cool Girl" speech; "bleed and clean,"). Her brilliance is terrifying. Even when it looks like her plans are going to unravel and she's going to be caught, she finds a new way to win. Amy is always about winning.
I didn't like Nick at the beginning but now looking back, you're not supposed to like him then. He's a bitter loser who drifts through the investigation, shrugging his shoulders at every new clue suggesting he might have a part in his wife's disappearance. It's only when he starts to fight back and become more like Amy, crafting his own lies and using the media to his advantage, that you begin to like him. It has a scary twist on the traditional happy romantic ending, and I loved it.
In short, this book hits all the marks and I will definitely be reading more from Gillian Flynn in the future.