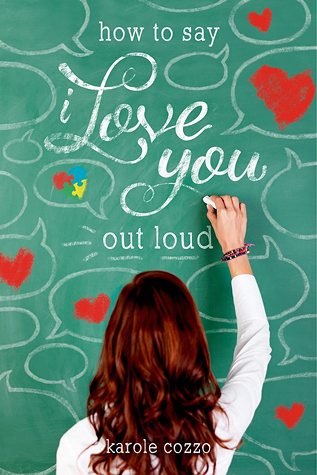 you can find the book at:
GoodReads
Amazon
Barnes and Noble
Author Website
goodreads summary:
Words are strong. Love is stronger.
When Jordyn Michaelson's autistic brother joins her at her elite school, she's determined not to let anyone know they're related. Even if that means closing herself off to all her closest friends, including charming football stud Alex Colby. But despite her best intentions, she just can't shake the memory of kissing Alex last summer, and the desire to do it again.
Can Jordyn find the courage to tell Alex how she really feels—and the truth about her family—before he slips away forever?
my review:
~ARC provided by Netgalley in exchange for an honest review~
How to Say I Love You Out Loud by Karole Cozzo is a heartfelt story that fits perfectly into the contemporary YA genre, containing a touching story that was enjoyable.
Cozzo has created a story that delves deep into the themes of disability and family. Jordyn's brother, Phillip has autism and is sent to go to his sister's school. Jordyn fears for him and for herself in fear of being judged.
Jordyn is a relatable main character. She's shy, and not very confident, which means she doesn't get close to anyone because it means they'll learn about Phillip. Over the course of the book she is quite clearly a smart girl in social situation. She knows not to mess with the captain of the girls hockey team. The story was enjoyable; the romance was slow-building yet gratifying. Jordyn, I will admit, not everyone who reads this book is going to like her. I'm not going to lie: Jordyn is selfish. I actually hated how she treated her brother like crap as if he's the source of all the world's problems and it was so difficult to try and forgive her for it as she realises how wrong she was for doing it but I'm glad she realised what she was doing was wrong.
One aspect that really pulls this book together is Karole Cozzo's writing style. This story is so well crafted and the title might throw some people off, but romance is actually not at the heart of this novel. (I'm really glad it wasn't as it would have ruined the story)
Overall, this novel was enjoyable. I read it so quickly and was left with a feeling of deep satisfaction despite there being some issues with plot and characters. But I do appreciate books that bring less talked about issues to the forefront. While I appreciate Cozzo for showing that, it's a shame Jordyn was the one who brought this book down a bit.