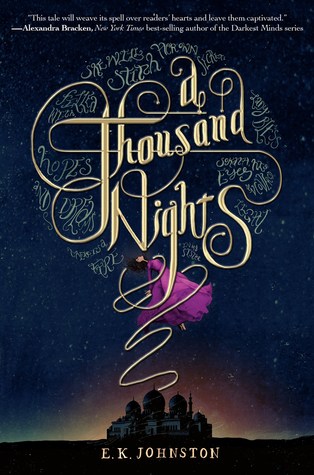 you can find the book at:

GoodReads
Amazon
Barnes and Noble
Author Website
summary:
Lo-Melkhiin killed three hundred girls before he came to my village, looking for a wife.
Set against a bright desert backdrop, this epic fantasy retelling of The Arabian Nights pits the designs of common girl against the schemes of a murderous king, and the bond between two sisters against the dark temptation of power beyond measure.
my review:
~ARC provided by Netgalley in exchange for an honest review~
A Thousand Nights is based on the tale of A Thousand and One Nights, though I don't know much about this book. In this book, the king, Lo-Melkhiin, has been marrying hundreds of girls, all of whom have died shortly after the marriage. The protagonist of the story, nameless, offers herself up as his newest bride, to ensure her sister's safety. Somehow, she survives night after night, and discovers a magic that is linking her and Lo-Melkhiin. And she may just be the only one who can bring down the king.
A Thousand Nights is magical and dark. From the first page it's rich, filled with cultural details, and it all feels really authentic and it's vivid. Rather than be about the stories, it's about a women who uses her wit to save herself, forging relations with those who fear she will die the next day. She's wise and determined to make sure she sees tomorrow. Her relationship with her sister was well written. Her emotion and love was so clear and is constantly there and is never forgotten.
I think the biggest issue I had with this book was names. (TBH it isn't even that big, just a personal choice) Or the lack of names. (I only realized after posting my last update is that main character doesn't have a name either) I was fine with it at first but I did get bored with her great-grand father's name is just "father's father's father". The main character loses many family members but I don't feel any sympathy because they're simply called 'her brother'. Although I understand the importance of the anonymity, I still felt sort of disconnected from the story.