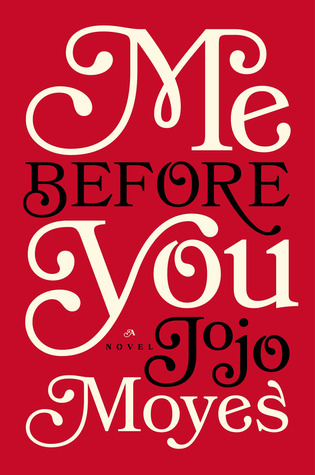 I decided put my reviews of MBY & AY together since both reviews were rather short.
you can find the books at:

GoodReads // GoodReads
Amazon // Amazon

B&N // B&N
Author Website
 EDIT: I have to admit, I was unaware that the ending came off as ableist when I first read the book. I really loved this until I learned how problematic the plot it. Thank you to 
Annie Elainey'
 and her 
video 
"Me Before Ableism #LiveBoldly"
 for helping me be more aware of this issue.
my review:
Me Before you
Louise Clark is a bright young women but is hopelessly direction-less when it comes to her life choices. She drifts between dead end jobs until until she takes a job as the carer to a man who has been in a quadriplegic state after a road accident years previous. Will Traynor had a high-profile and a very active lifestyle, until it was all taken away from him in the blink of an eye. He's bitter and angry and his family are on their last thread and shortly after Lou is hired she creates a desperate plan to try to convince Will that his life is worth living.
What I enjoyed about this was that it tackles a very modern topic. Will and Lou make each other so happy, but for Will, sadly it's not enough and Lou and the others are left to accept his ultimate decision about his future. This was a truly heart breaking novel that left me in tears.
Despite my high rating, there were a few things I didn't like. I know I might be the minority here but I just didn't get to grip with Lou and her family? The arguments Lou had with her sister just felt silly and considering their circumstances, they should've behaved more responsibly. And, although, the ending was extremely upsetting, I wasn't exactly happy with it. I really had hoped the Will and Lou would get a happy ending.
Overall, Me Before You is heart-breaking and I was left feeling so sad and heartbroken. I can't remember when I last finished a story that left me so many emotional.

After You

Rating: ★★☆☆☆
~ARC provided by Netgalley in exchange for an honest review~
We all love a book that ended too abruptly, leaving us with all these questions. What are they doing after the events of the novel? What comes next? But I don't think it means a sequel should be written to answer these questions. I liked After you, but it didn't feel like a worthy sequel.
It ties up all the loose ends in Lou's life. As always, Lou is lovable and hilarious as she was in the first book, but then I realized that original humor had disappeared without the Lou/Will dynamic. Me Before You ended with a long, lingering sadness,  and so much of this felt strange, stretching a story that didn't need to be continued.  The various subplots seemed pointless, and honestly the scenes where Lou's mother discovered feminism were so awkward, it wasn't a good portrayal of feminism.
Overall, fans of Me Before You will want to read this book but, honestly, I could have lived my life not reading this one. Mildly interesting and entertaining at some times, but nothing of interest has been added here for me