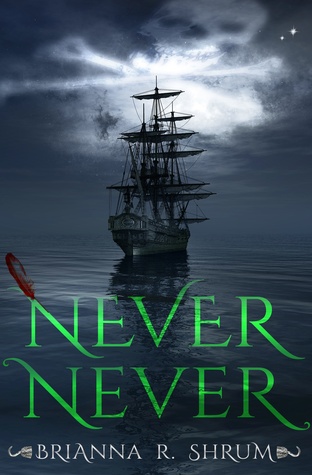 You Can Find the Book At:
GoodReads
Amazon

Barnes and Noble
Author Website
GoodReads Summary:
James Hook is a child who only wants to grow up.
When he meets Peter Pan, a boy who loves to pretend and is intent on never becoming a man, James decides he could try being a child—at least briefly. James joins Peter Pan on a holiday to Neverland, a place of adventure created by children's dreams, but Neverland is not for the faint of heart. Soon James finds himself longing for home, determined that he is destined to be a man. But Peter refuses to take him back, leaving James trapped in a world just beyond the one he loves. A world where children are to never grow up.
[…] This story isn't about Peter Pan; it's about the boy whose life he stole. It's about a man in a world that hates men. It's about the feared Captain James Hook and his passionate quest to kill the Pan, an impossible feat in a magical land where everyone loves Peter Pan.
Except one.
My Review:
Rating: ★★★★☆
~ARC provided by Netgalley in exchange for an honest review~
Never Never is a new imaginative take on how Captain Hook came to be. This isn't the story we all grew up knowing, and completely different from the much loved Disney movie. There are similarities which quickly overpowered by the differences. I quickly came to despise Peter Pan, and become sympathetic to Hook and his need to revenge, but as the novel unfolded I found myself pulling away from Hook.
Within the first pages, you become fascinated with the world that has been created. Captain Hook, aka James Hook, was just a boy who wanted to grow up and become a man. He has loving yet stern parents who deeply do care for their child, with another child on the way. I'm glad we got to see this side of Hook, and because I had never once thought of Captain Hook as child before. He was a strong, yet had that childish neediness with him, with an imaginative mind. After meeting Peter Pan, he decided to visit Neverland, as a visit. But once in Neverland, he realised that he had no way of getting home. So Hook decides to grow up, while Peter Pan and his Lost Boys did not. Over time, this savage anger builds up against Peter and it was understandable.
Peter was such an unlikeable character, a dark and heartless killer. It was fun seeing him in a different light.  But as the book trudged on, I started to get annoyed because his cruelty is so intense and it becomes questioning as to why he is that way and why no one did anything against him. Eventually, it does get tiring.
I did begin rooting for Captain Hook to kill Peter Pan. But each time he got close, Captain Hook fails and this is how the majority of the book seemed to proceed and I struggled with that.
One thing that I'm sort of on/off about in this book, was the relationship between Captain Hook and Tiger Lily. It was sweet, and at times touching. I got excited that Captain Hook finally had a chance of happiness.  But, I struggled with the direction they were taken in.  Tiger Lily's decisions were confusing and I don't want to give away anything, but just know that I didn't agree with a few scenes.
Overall, Never Never was extremely imaginative and was such a fun take on the original story.  I enjoyed hearing Captain Hook's side however Peter Pan was too dark, too evil with no plausible reason as to why. And Tiger Lily's relationship with Captain Hook confused me.  Also, I felt like the ending needed an epilogue, maybe from Tiger Lily's POV or someone else's  because I felt as though so much was left up in the air.