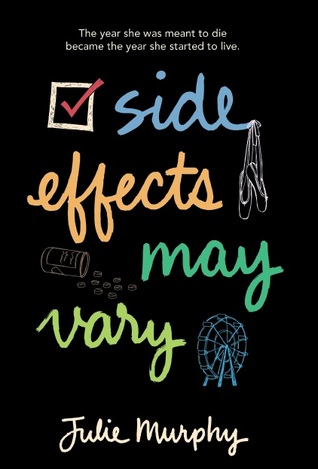 you can find the book at:

GoodReads
Amazon

Barnes and Noble
Author Website
goodreads summary:
When sixteen-year-old Alice is diagnosed with leukemia, her prognosis is grim. To maximize the time she does have, she vows to spend her final months righting wrongs—however she sees fit. She convinces her friend Harvey, who she knows has always had feelings for her, to help her with a crazy bucket list that's as much about revenge (humiliating her ex-boyfriend and getting back at her archnemesis) as it is about hope (doing something unexpectedly kind for a stranger). But just when Alice's scores are settled, she goes into remission.
Now Alice is forced to face the consequences of all that she's said and done, as well as her true feelings for Harvey. But has she caused irreparable damage to the people around her—and to the one person who matters most?
my review:
Side Effects May Vary is a story between two very different protagonists. First you have sixteen year old Alice that is diagnosed with cancer and because her days are suddenly numbered, she decides to enlist the help of her long-time friend Harvey to revenge on those who did her wrong. However, a year later, when she finds herself in remission, she's not only forced to deal with her new reality but also the consequences of her decisions. She has lived the last year of her life knowing it was her last—including doing some rather not nice things. The other half is Harvey, Alice's best friend. They have lived their lives next to each other, their parents are best friends, and Harvey and Alice have grown up alongside each other. And Harvey is completely in love with Alice.
I think Murphy did a great job with the dual point of view. Alice is selfish, mean and treats people like crap and is terrified. She could be considered the protagonist and the antagonist, and she's a character you love to hate, with good reason. Harvey is sweet and charming, a character that deserved so much more. I rooted for his relationship with Alice though Alice wasn't always deserving of the love Harvey had to give.
It revolves around Alice's second chances, the harsh realities of high school, and about friendships that can either define you or destroy you. Overall, a very witty novel that was really interesting to read.