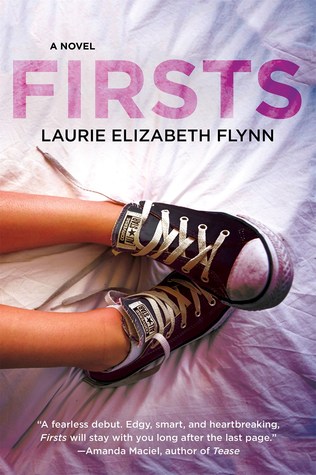 you can find the book at:

GoodReads
Amazon

Barnes and Noble
Author Website
goodreads summary:
Seventeen-year-old Mercedes Ayres has an open-door policy when it comes to her bedroom, but only if the guy fulfills a specific criteria: he has to be a virgin. Mercedes lets the boys get their awkward, fumbling first times over with, and all she asks in return is that they give their girlfriends the perfect first time- the kind Mercedes never had herself.
Keeping what goes on in her bedroom a secret has been easy- so far. Her absentee mother isn't home nearly enough to know about Mercedes' extracurricular activities, and her uber-religious best friend, Angela, won't even say the word "sex" until she gets married. But Mercedes doesn't bank on Angela's boyfriend finding out about her services and wanting a turn- or on Zach, who likes her for who she is instead of what she can do in bed.
When Mercedes' perfect system falls apart, she has to find a way to salvage her reputation and figure out where her heart really belongs in the process. Funny, smart, and true-to-life, FIRSTS is a one-of-a-kind young adult novel about growing up.
my review:
~ARC provided by Netgalley in exchange for an honest review~
I'll start with what I did like so it's not lost in whatever comes next. The style of writing made it easy to read, it's light and fluffy, and serious when it needs to be. Mercedes was an interesting main character, I didn't like her, but it was nice to read a YA contemporary that's quite different. Firsts make a lot of promises and the potential was so obvious.
I wanted this book to be so about empowerment but it was so bad how lacking the empathy was towards the females vs the amount of care was taken into sympathising with the boys she slept with, especially since they cheated on their girlfriends with Mercedes. But I felt so bad for her when she receives the brunt of the abuse from the girlfriends.
Mercedes logic behind why she's provided her service is understandable, but again it lacks any proper exploration until the very end where it's delivered in the biggest info dump ever. She never once tells her experience to the girlfriends or attempts to clear the air on why she did it. I get that they're extremely mad at her, but considering how strong she was in her justification of her own actions to herself, I just thought she would try at least. Like her reasoning makes sense, but at the same time, I was sitting there going, you're sleeping with people who are already dating other people.
Also, the character of Faye felt so forced and was such an obvious plot device to put Mercy and Zach together. (mercy's like oh this new girl is hotter than me, zach is obvs going to like her better than me, despite zach being so blatantly obvious about his feelings towards Mercy) The use of a stereotype with the spanish exchange student and his broken english language who coerces Mercedes into consenting to sex was something that just didn't sit well with me. At all. Mercedes shames her supposed best friend for wanting to wait until marriage and treats her mother like shit, and when she attempts to try to fix their relationship, she just chucks it back into her face.
I think the biggest issue I had with this novel was the message it sent about consent. Twice Mercedes tells boys to disregard consent, and completely misrepresents consent and confuses what is a very clear case of rape. I also didn't enjoy how the trauma Mercy exhibits is never fully addressed despite it's obviously a huge factor in Mercedes choices.
Overall, a novel that was filled with potential. This novel is set in our modern world where women are valued as object based solely on their sexual availability to men. I understand where Mercedes was coming from, despite being completely different to her. Don't be bogged down by my low rating, it's a good because the book does point out an important double standard about sexually active girls and teen boys and does portray a realistic and challenge to slut-shaming and double standards.