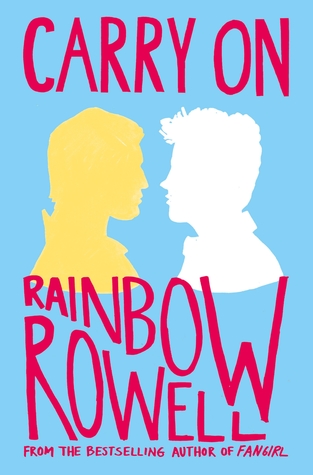 you can find the book at:
GoodReads
Amazon
Barnes & Noble
Author's website
my review:
Rating: ★★★☆☆
~ARC provided by NetGalley in exchange for an honest review~
To be honest, I gave an extra star because I had a soft spot for Baz.
Carry On follows the life of the worst chosen one ever, Simon Snow, as he struggles to survive his final year at school. His girlfriend broke up with him and his roommate/nemesis goes missing while the evil Humdrum continues to make his life a living hell. This standalone is based on the characters who feature in snippets in Rainbow Rowell's bestselling Fangirl.
I'm probably in the minority here, but… I didn't like Fangirl. People kept parading that book like it was the damn Dummies Guide to Fandom. But I didn't feel that way at all. However, I was mildly interested in the snippets that were in Fangirl. But this book was really boring, at first. Nothing really happens until Baz turns up 30-ish% in the book. There were moments when I felt like I was reading angsty Darry fanfiction.
Looking back on it, this whole book was messy. I know it's supposed to be Rowell's take on the story, not Gemma's (the author of the SS stories in Fangirl) or Cath's fanfiction version. But the book is set up so it's like the final story in Simon's adventure, so there's a lack of world building and the book leans on using the premises from Harry Potter so much that it wouldn't have worked on its own. We're just thrown straight in, having missed seven books worth of characterisation- it was probably Rowell's intention to so but it was a bit tiring listening to them refer to their past adventures but we weren't there.
Characterisation wise, I didn't like anyone, at first, but they grew on me. Simon was so uninteresting and I still feel like I don't understand him at all. Penny was smart and I liked her. I don't even remember Agatha. The chapters with Lucy was interesting but I didn't like how Simon doesn't learn the truth behind his parentage? It would've made a better plot to seem him react to that news, even though I saw it a mile away. Baz was my favourite. Watching him struggle with his dilemma as a vampire was interesting but He was good but could've been way better.
Overall, I'm in the middle with this book. While in terms of diversity, Carry On has Harry Potter beat. I was hoping it would be more original.
Kindle Edition, 529 pages

Published October 6th 2015 by St. Martin's Griffin

ASIN: B00V35U13W