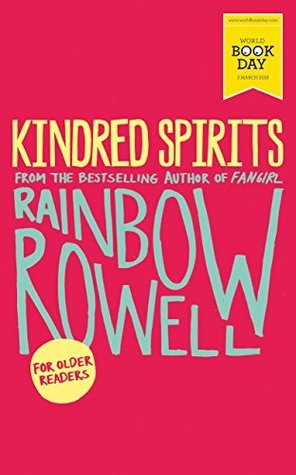 you can find the book at:
GoodReads
Amazon
Barnes & Noble (unavailable)
Author's website
my review:
Rating: ★★★★☆
Elena holds Star Wars dear to her heart ever since her father introduced her to the films years ago. With the release of The Force Awakens just days away, Elena decides to queue outside her local cinema. She arrives expecting a ton of people, but it turns out she's the last in line of only three people.
I'm just gonna say it, I preferred this to Fangirl. Even though this is a short story, released especially for World Book Day 2016,the portrayal of Fandom was just much better in this than it was in Fangirl. I love Star Wars, and I really enjoyed reading Kindred Spirits. It's a cute short that celebrates fandom and even if you're not into Star Wars, it's still interesting enough to read.
I think better part of the book was tackling the idea of a fake fan. Elena has only seen the original trilogy and she gets worried that the others will judge her because she hasn't seen the prequels. I was so worried for her because,in real life- actually online, people are rude as hell when they learn that you haven't fully seen everything about something like movie series, read all the books or listen to a certain artists whole discography. I really appreciated the fact that they didn't judge her. Kindred Spirit depicts Elena's hilarious struggle with fandom, judging people before really getting to know them and that anyone can be a fan, doesn't matter how much they haven't or have experienced.
Paperback, World Book Day Edition 2016, 62 pages

Published March 3rd 2016 by Macmillan Children's Books
ISBN: 1509820833