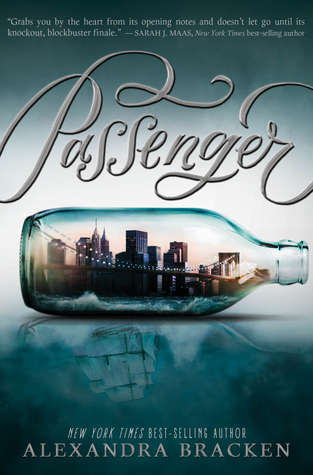 you can find the book at:
GoodReads
Amazon
Barnes & Noble
Author's website
my review:
Rating: ★★★★☆
~Copy provided by NetGalley in exchange for an honest review~
When violin prodigy, Etta Spencer, accidentally travels through time, she unravels her her mother's mysterious past which she knew nothing about until now. Alongside another traveller, Nicholas, they embark on a journey across through time in search of a hidden object.
I have to admit when I saw the author mention that there was going to be no love triangle in this novel, I HAD to request it on NetGalley. Love triangles lost its appeal four years ago. And Passenger was a great read.
I love time travel, and I did start this novel with uncertainty because some novels do butcher the concept of time travel so horribly it doesn't make sense. Sure, it took me a while to understand its concept, but it's an interesting take on time travel.Her execution and extensive attention to detail were both adequate.

It took me a while to warm up to Etta but she's a decent main character. I thought I was a getting typical special blond snowflake but I'm glad I was wrong. She's dedicated to her music and is such a strong-willed person. Given many that YA novels lack people of colour, I loved Nicholas. A young 18th century African-American boy growing up and travelling in time periods that are particularly dangerous to him and can easily jeopardise the mission. I liked how Etta and Nick's dynamic worked. It's difficult for her to navigate in history as a women,and it's the same for Nick as man of colour. And that just made their adventure a little more interesting.
The way Bracken write is highly descriptive. It works highly in her favour but I had to admit there were moments where I felt like it wasn't needed and in some places, it was lacking. We get lengthy passages of clothing and violins etc.etc but much less when she goes to places like Cambodia and Damascus. I wouldn't have minded as much if it was evened out but it wasn't. Also the motive which drives Etta is actually quite unclear. And her real motive within actually doesn't appear until later on in the novel, which made the novel feel like it was dragging. Plus, I wouldn't call Etta and Nicholas instalove but it's set up in Nicholas's first description of Etta. And to be honest, it wasn't needed. It's slow burning but I would've preferred it if we weren't so painfully obvious that they found each other attractive from the get go.
Overall, Passenger is an adventurous romantic tale and an enjoyable time travelling read.
Kindle Edition, 464 pages

Published January 5th 2016 by Disney Hyperion

ASIN: B00TTO89KG